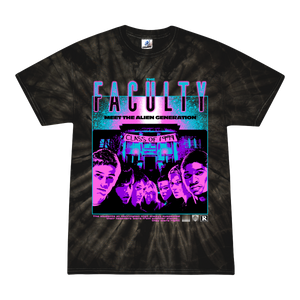 The Faculty Tie Dye Tee
A Robert Rodriguez classic circa 1998. With a star studded cast and a sci fi 'bodysnatchers' vibe. This was an instant Cult Classic and I'm so glad Studiohouse came up with this wee gem. 
The colour palette is perfection and I love this poster style print especially in all in purples, blues and white screen print ink.
Screen printed on Mens fit StudioHouse Designs Tees in sizes S-XXL
Stay Spooky!