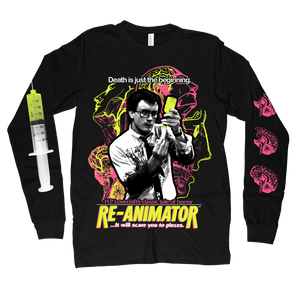 Re Animator West Long Sleeve
"Damn it, it wasn't quite fresh enough"
Jeffrey Combs was an absolute legend in this film as Herbert West. Experimental scientist trying to find a way to have life after death. 
He's quirky, unorthodox but hella entertaining!
Lime green, pink and white screen print ink on a plain black Bella Canvas Long Sleeve.
Poster style image on the front with a syringe down one sleeve and a series of brains down the other. 
Stay Spooky!