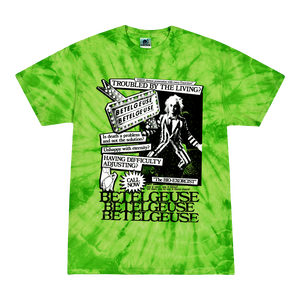 Beetlejuice Lime Tie dye Tee
"Go ahead, make my millenium!"
We love a Beetlejuice Tee as much as the next person so we just keep bringing him back! Another rad Tie Dye tee from Studio House but this time its in lime green tie dye
Black and white screenprinted design on color tone tie dye tee. 
Feels like gildan cotton tee, can run slightly smaller than usual in Colortone brand tees
Stay Spooky!