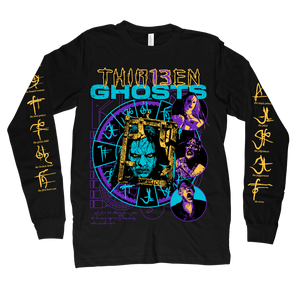 13 Ghosts Long Sleeve
"The Jackal is the Charlie Manson of ghosts. And if the Jackal's out, screw the kid! We gotta get out of this basement!"
The 2001 instant cult classic 13 Ghosts is one of those films that is reminiscent of the year it came out. The actors, the concept, the vibe. We are here for it.
StudioHouse Designs made this epic long sleeve inspired by the film with bold imagery, punchy colours and two sleeve prints with the ghostly markings. 
Screen printed on lightweight stretchy Mens sized Long sleeves with purple, teal and yellow colours.
Also available in a tee.
Limited edition, limited stock, no restocks.
Stay Spooky!